How Does Sports Betting Work in Massachusetts?
You will first need to open an account with an online sportsbook licensed to operate in Massachusetts. Once your account is registered, choose the event you want to wager on, check if you like the odds and place your bet or bets. We also recommend all bettors shop around and look for the best Massachusetts sportsbook promos.
How Do I Place a Bet on Sports in Massachusetts?
Placing a sports bet in Massachusetts will be easy, even for new bettors. All you need to do is select any of the best Massachusetts betting apps that appeal to your preferences and likes. From there follow these simple steps:
Sign up with an account
Make the minimum deposit - usually $5-$20.
Claim the promo
Browse the markets and find a sport you want to wager on
Add your bet to the betslip
Complete the process and wait to see if you've won.
I'm New to Betting, Should I Claim the Offer?
Offers can be great for any new bettor, especially those who are learning how to bet. Many of them will let you place a bet and if you lose, you get your money back. You don't need to wager the maximum amount. You can start with something small like $10 and get a feel for the operator and overall process. We would recommend trying a promo or two out to practice your betting strategies.
Using a BetMGM Massachusetts bonus code is one of the best all-around options for beginners, but each in-state operator has its own strengths and weaknesses.
Visit BetMGM.com for Terms and Conditions. 21 years of age or older to wager. MA Only. New Customer Offer. All promotions are subject to qualification and eligibility requirements. Rewards issued as non-withdrawable bonus bet credits. Bonus bets expire 7 days from issuance. In Partnership with MGM Springfield. Play it smart from the start with GameSense. GameSenseMA.com. Gambling Problem? Call 1-800-327-5050 or visit gamblinghelplinema.org.
How Do I Read Betting Lines?
There is no escaping the fact that a sports betting site or app can be confusing at first sight. At the heart of all the numbers presented to you are the betting lines. All betting sites in Massachusetts will by default deliver those lines using American odds.
In each instance, the odds on the underdog are preceded by a plus sign, and the favorite's by a minus. The odds work as follows:
If the New England Patriots are favored to win their next NFL game and the odds at Caesars Sportsbook are -180, you would need to stake $180 to win $100. However, if the Boston Red Sox are the underdog in an MLB game at odds of +120, you win $120 for every $100 you stake.
Keep in mind, however, there may be a Caesars Sportsbook Massachusetts promo code that could provide boosted odds or profits.
American Odds vs. European Odds
Some betting sites may offer you the option of switching between American and European prices, which are also known as decimal odds. This is the system of pricing used in Europe, as well as many parts of Asia and Australia.
The main difference between European and American odds is that the decimal version includes your stake, whereas those used in the USA and Canada do not. So, if the Boston Bruins are quoted at +175 on the moneyline in their next NHL game, that same bet would appear as 2.75 in decimal odds. If you stake $10 on the Bruins and they win, your return in each instance will be $27.50.
How Much Should You Wager on a Bet?
One of the most important lessons new bettors must learn is that you should play responsibly and never, ever bet more than you can afford to lose. However, there may also be minimum and maximum bet limits imposed by your chosen sports betting site.
These vary between operators, so check out the rules that apply in each instance. But you may be able to place a bet of less than a dollar - and at the other end of the scale, it may be possible to stake several thousands, depending on your wager type.
Choosing the Right Sportsbook for Beginners
As of March 10, six sportsbooks are live. This means you should be able to choose between many of the best operators on the market. Your choice will, ultimately, be purely personal - but there are many questions you can ask yourself to help you decide which sportsbook is the right one for you.
Let's break down how to choose which sportsbook is right for you.
What Sports Do You Want to Bet on?
You may be a big fan of leading US sports such as football, basketball and baseball. These will all be covered in depth by an American sportsbook. However, if you have less mainstream interests such as cycling, motorsport or Australian rules football, check out which operators carry odds on that action.
Is There a Specific Bet Type You Want to Try?
There are a host of ways of wagering on sports, many of which we will discuss below. Betting on the moneyline, point spread, futures or totals is commonplace, but there are certain operators with a strong focus on live betting, for those who like to wager in play, while others will make it easy for you to place a parlay bet, including same-game parlays. Using a FanDuel Massachusetts promo code is a great option for bettors who want to bet SGPs, for example.
Bonuses & Promotions
Every sportsbook licensed to trade in Massachusetts will want you to bet with it rather than a rival. Competition for customers is intense - and bonuses are potent weapons in the battle for clients' loyalty.
New bettors should expect to receive an enticing welcome bonus in return for registering for an account. This might be the chance to double your betting power with a deposit match, or a risk-free first bet. There should also be plenty of ongoing bonuses for sports bettors, such as odds boosts and parlay insurance. The most dedicated customers should see their loyalty recognized by a reward program, or by an invitation to join a VIP scheme with extra-special benefits.
For example, DraftKings Sportsbook Massachusetts has one of the best rewards programs in the state.
Security
It is essential that you feel reassured at all times when enjoying online sports betting that your personal data is completely secure. The process of signing up for a sportsbook entails sharing several pieces of private and financial information that you would not want to fall into the wrong hands.
The first consideration is that you should wager only with an operator licensed to trade in your state. The best online sportsbooks have an SSL certificate that means all transactions are encrypted throughout. Look for a website whose address begins "https" rather than "http".
Two-factor authentication is another sign that you are dealing with a company that takes your security seriously. You should also play your part by creating a complex password that you do not use anywhere else.
Visit BetMGM.com for Terms and Conditions. 21 years of age or older to wager. MA Only. New Customer Offer. All promotions are subject to qualification and eligibility requirements. Rewards issued as non-withdrawable bonus bet credits. Bonus bets expire 7 days from issuance. In Partnership with MGM Springfield. Play it smart from the start with GameSense. GameSenseMA.com. Gambling Problem? Call 1-800-327-5050 or visit gamblinghelplinema.org.
Features at Available Sportsbooks
When you are considering how to bet on sports, there are numerous ways in which a sports betting site can enhance your experience with attractive features. You may prize highly the ability to wager live on sports that are in play, with the associated benefits of live video streaming of the event and the ability to cash out your bets early.
The quality of the user interface, including the design of the website or app, is also important, as is the ease with which you can move from screen to screen. If you are doing a lot of live betting, for instance, you will value the ability to find your bet and place it as quickly as possible.
The ability to place very small bets may appeal to you, while in contrast a high roller will look for a lofty maximum limit - or a sports betting operator with no limit at all.
The Sports Market
You will soon realize, when you are working out how to bet on sports, that most companies that take sports bets in Massachusetts will cover all the major US leagues. If you are eager to place a bet on football, basketball, baseball and hockey, you should expect to find markets on all the top-level leagues - and local events at local level too. And yes, this includes New England Patriots Super Bowl odds.
However, some operators offer more options than others when it comes to proposition bets and other variations. There are also sportsbooks that carry extensive betting opportunities on top sports around the world, rather than focusing purely on the US. If there is a particular niche sport at home or abroad that you want to wager on, shop around to see where you can find odds on it.
Odds Offered
As you become more experienced in placing sports bets, you will realize that the odds on a particular market are not the same at every sportsbook. It is well worth comparing the odds available on certain sports at different websites and at different times, to work out where the best value lies.
Some sportsbooks put their odds online earlier than others, and there can be an edge in wagering early before any line movement. Others may offer reduced juice bets - where the odds are slightly more in favor of sports bettors - at particular times.
Easy Payment Options
One of the ways in which a sportsbook should make it easy to sign up and bet is by offering a range of payment options. You should find a method of moving money that you find most convenient - but always check out which are available with your sportsbook. You should also look into the terms and conditions that apply with each sportsbook and every method, particularly around how long it can take to withdraw funds.
Online Banking - One of the easiest methods if you use online banking for your personal finance needs already. You should be able to log into your personal bank through your sportsbook website and transfer funds.
PayPal - Similarly, if you link a PayPal account to your personal bank, you should be able to connect your sportsbook account and use the funds for wagering.
ACH eCheck - Many online betting companies have historically offered this facility, but please note that at least one major operator no longer supports this method.
Play+ Prepaid Card - You can use a debit or credit card to fund a prepaid card, from which you can then transfer funds into your sportsbook account. However, some banks will decline certain payments to sportsbook accounts.
Wire Transfer - Traditionally one of the quickest and smoothest ways to fund your betting account - but check out how rapidly your money will be cleared so you can start wagering with your sportsbook.
Debit/Credit Cards - An extremely popular method of funding sports betting - although some major banks will decline deposits into sportsbook accounts.
Cash - The simplest method of all. If you are in a casino or other licensed retail premises that has a partnership with your sportsbook, you should be able to deposit and withdraw instantly at the casino cage.
Customer Support
If you have a question or complaint as you become a person who knows how to bet on sports, it is essential that you can have it addressed as quickly and effectively as possible. Every leading sportsbook should have a choice of ways to make contact with its customer support team. These can include a toll-free telephone number, a live chat facility or an email contact address. There may also be an extensive FAQ section on its website.
MA only. 21+. Gambling Problem? If you or a loved one is experiencing problems with gambling, please call 1-800-327-5050 or visit gamblinghelplinema.org for 24/7 support. LiveChat with a GameSense Advisor at GameSenseMA.com or call 1-800-GAM-1234
Types of Massachusetts Sports Bets
One of the most important things to learn when you want to know how to bet on sports is the various bet types available. The most popular options are as follows:
Moneyline
It will be no surprise at all if your first bet is on moneyline odds. This is the simplest way to place a sports wager; you just decide which team is going to win, and bet accordingly. Let's say the Boston Red Sox are the moneyline favorites for their next MLB game; their odds will come with a minus sign. If they are -140 to win outright, you would need to stake $140 to win $100. If they are the underdog at +130, you earn $130 for every $100 you wager.
Point Spreads
The point spread bet is an extremely popular option with sports bettors. Point spreads are effectively handicaps, where the underdog is given a start of several points based on the expected difference in performance. Both teams have the same odds, usually -110/-110. You have to decide whether or not the favorite will win by more than that spread - if they do so, they are said to "cover the spread". So if the New England Patriots have a -6.5 point spread against the Green Bay Packers and they win by seven points, they cover the spread and anybody who backed them on the point spread is a winner.
Parlays
A parlay bet is a great way of betting on multiple games with a single stake. You can include two or more bets in your parlay, though usually sports bettors like to include three games or more. You may believe the New England Patriots, Boston Bruins and New York Giants will all win on the same day, for instance. As each of your selections wins, you don't pick up a return - it rolls over on to the next pick. Bettors love parlay bets because as the odds multiply you could end up with a very handsome payout indeed in return for a small stake. The catch is that all your picks need to win, otherwise you end up with nothing.
Over/Under Totals Bets
Not every sports bet or betting line is related to the final score, or which team wins a game outright. Over/under bets, also known as totals, are exactly what they sound like - a wager on the number of times a certain thing happens during a game. You may see a quote, for example, of a total of 215.5 points in the Boston Celtics' next NBA game. If you think both teams will score fewer combined points than that, you go with the Under; the alternative is to opt for the Over. If the final total in question is exactly the same amount as the sportsbook's number - which most books avoid by using half-points - all bets on the market are refunded.
Futures
Online sports betting does not have to relate merely to games taking place today or this weekend. Futures bets are wagers on markets whose outcome may not be known for several months. If you believe the New England Patriots will win next year's Super Bowl, for instance, you can check out the futures markets and find odds for that outcome. Futures bets are a great way of ensuring you have an interest across a whole season. Many sports bettors place futures bets for precisely that reason - and all major sports have a busy market in futures wagers each season.
Prop Bets
Prop bets, also known as propositions, are related to outcomes within a game that may have nothing to do with the final score. If you want to learn how to bet on sports in a more detailed and sophisticated way, prop bets are for you. Leading online sports betting operators will offer an enormous choice of markets within a single game. They could include bets on the first-half score, the race to a certain number of points, the winning margin (similar to a point spread), individual player performances, and so many more.
Live Betting
Advances in digital technology in recent decades have made it possible for any sportsbook to update its odds automatically and instantly. That has in turn meant that it is possible to take bets after a game has started - previously, bettors had to wager in advance with no option of betting once the action was under way. If you enjoy wagering on sports online, live betting in Massachusetts is an exciting way to play. Many operators also offer the opportunity to watch a live stream of the action you have bet on; and you can often cash out your bet early if you want to lock in a profit or minimize a loss.
Massachusetts bettors must be 21+ and present to place wagers in the state. Play it smart from the start! GameSenseMA.com or call 1-800-GAM-1234. Gambling problem in Massachusetts? Call 1-800-327-5050 to speak with a trained specialist free and confidentially 24/7. Full T&Cs apply.
Most Popular Sports to Bet on in Massachusetts
One of the main reasons there is so much excitement around sports betting in Massachusetts is that there are several famous pro sports teams based in the state. Their presence will undoubtedly drive a high level of interest in wagering among sports fans and bettors here.
NFL Betting
Football is without a doubt the biggest sport in the USA both in terms of fan interest, and when it comes to the level of wagering at betting sites in states where the activity is legal. The Massachusetts-based New England Patriots, with six Super Bowl triumphs since the turn of the century, will inevitably generate huge betting interest. The NFL, with its frequent breaks in play and relatively high scoring, is ideal for live betting as well as point spreads, totals and futures.
NBA Betting
No team has won more NBA play-off finals than the Boston Celtics, whose 17 victories ensure a huge level of support across their home city and state. Basketball is a sport with massive betting potential. It is ideal for a point spread bet or a totals wager. Betting firms can expect a great deal of interest in the NBA throughout the regular season and play-offs.
MLB Betting
With the Boston Red Sox, you can be sure of significant levels of interest in baseball at sports betting sites in Massachusetts. Four World Series titles since the turn of the century show the Curse of the Bambino has been well and truly laid to rest. Bettors can study a host of statistics to inform parlay bets, point spread betting and a moneyline bet.
Whether you want to wager on Red Sox playoff odds, World Series odds or just game bets, all sportsbooks will offer plenty of options.
NHL Betting
Hockey has a long and proud history in Massachusetts. The Boston Bruins are the oldest NHL team in the USA, and were one of the Original Six. This is a game that drives a steady amount of sports betting interest, and plenty of hockey fans will enjoy a bet on the moneyline, as well as parlays - including same-game parlays.
Golf Betting
Golf is a popular sport to play in Massachusetts, and the state is home to the Country Club at Brookline, a regular US Open venue. This is also a sport that offers a host of betting opportunities. As well as betting on an overall tournament winner, there are several prop wagers such as three-ball betting, and the relatively sedate pace of a round means there is plenty of time to weigh up a live bet.
College Sports Betting
Betting on college sports is big business, given that many teams have followings almost as large and passionate as their pro counterparts. However, there are restrictions on placing a bet. You cannot wager here on any game involving a Massachusetts-based team - unless it is playing in a tournament, such as March Madness.
Visit BetMGM.com for Terms and Conditions. 21 years of age or older to wager. MA Only. New Customer Offer. All promotions are subject to qualification and eligibility requirements. Rewards issued as non-withdrawable bonus bet credits. Bonus bets expire 7 days from issuance. In Partnership with MGM Springfield. Play it smart from the start with GameSense. GameSenseMA.com. Gambling Problem? Call 1-800-327-5050 or visit gamblinghelplinema.org.
Massachusetts Sports Betting Tips
There are several tips that new bettors should bear in mind when working out how to bet on sports in Massachusetts. These should help you to get more enjoyment from your sports betting experience at an earlier stage of the process.
Lines Are Always Moving
Remember that lines are not set in stone. Line movement on moneylines, the point spread and over/unders can take place for several reasons, such as an imbalance in the money wagered on either side of the spread, or because of new information about injuries, suspensions or weather conditions. Keep track on line movement and look out for reduced odds, because that can help you to get the best price about your selection.
Shop for the Best Line
Even if you open only one sports betting account, keep an eye out on other sportsbooks and their odds on a particular market. You may notice that there are operators with better prices on certain sports. But always shop around to make sure your sportsbook is offering the top odds, for instance, the best Super Bowl odds, available on your planned bet.
Identify Your Strengths (and Weaknesses)
It is good to analyze your betting record to see where you have most success - and where you are constantly backing losers. You may know more about one particular sport - if you are an NFL fan, it will ensure your betting is more informed. Conversely, if you are losing regularly you may be guessing too often, or chasing bigger wins by backing the underdog on higher risk moneylines.
Set a Betting Limit
It is essential that you play responsibly at all times - and one of the best ways to do this is to set a betting limit. Work out how much you can afford to lose on a weekly or monthly basis. That leaves you free to bet without fearing the financial consequences for you and those close to you.
Have Fun
Never forget this nugget of advice... sports betting is supposed to be fun! Wagering on your favorite leagues and teams gives you an extra level of engagement with the action, and makes being involved with live sport even more enjoyable. Manage your sports betting so that it's truly exciting when you win, but painless when you lose.
Massachusetts bettors must be 21+ and present to place wagers in the state. Gambling problem in Massachusetts? Call 1-800-327-5050 to speak with a trained specialist free and confidentially 24/7. Full Terms and Conditions Apply.
How to Bet on Sports in Massachusetts FAQ
Yes, it is. Sports betting was legalized in Massachusetts in the summer of 2022. Sportsbooks went live on March 10, 2023. You can legally place bets with online sports betting sites, mobile apps and retail sportsbooks.
You will need to be aged at least 21 to be able to enjoy sports betting in Massachusetts. While there are certain gambling activities that are legal at 18, such as the state lottery, the lower limit for sports betting, as with playing at casinos, is 21.
The easiest bet to make is a moneyline bet. This is a straightforward bet that has only two to three outcomes. For example, you might choose one specific team to win. You will find moneyline bets at all the best operators.
Sports betting refers to you, the bettor, placing money on an outcome of a certain choice. If that outcome is achieved, you win money. For example, if you bet a team will win by 3 points, you are placing a spread bet. Whereas, if you are betting on multiple things to happen, you are betting a parlay.
Author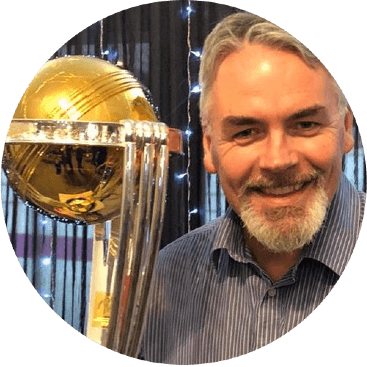 An award-winning contributor covering sports betting and casino gaming around the world for decades, Martin Booth is one of the most trusted voices in online gambling. From legislative updates to breaking down the top betting apps, Martin covers a gambit of topics for BetMassachusetts.com.